STAFFORDSHIRE POLICE JOBS
Staffordshire Police jobs
Do you think differently? Do you want a meaningful career that improves the lives of those around you, a career where no two days are the same?
If so, you may be eligible to join a Police Now award-winning two-year national graduate programme. This is a unique opportunity to join the police through one of our Times Top 100 graduate schemes which offer personal support and advice, training and development.
Society needs police officers as diverse as the communities they serve across the Stafford area, to improve the lives of those around them. We need people like you to bring the diversity of your experiences to make a positive and lasting difference in Stafford and to the communities challenged by crime.
Want to influence with purpose? To promote something so important it stops crime and saves lives?
You can use your story, your background, and your degree in a career where engagement really matters. Influence for generations as a neighbourhood police officer.
Police detective jobs in Stafford
question everything,
become a detective
Discover more about our award-winning programme for graduates.
Staffordshire Police careers
Staffordshire Police serves more than 1.1 million people in an area covering 1,000 square miles, spanning from the rural Moorlands to major urban areas such as Stoke-on-Trent, Tamworth, Cannock and Burton-upon-Trent. The resident population is increased by university students and the large numbers who visit, socialise in, or travel through the area each year.
Although there are some more affluent areas, Staffordshire has a high level of poverty. Staffordshire Police are committed to protecting their communities by reducing and preventing crime and antisocial behaviour.
Why join Staffordshire Police with Police Now?
By joining Staffordshire Police through Police Now's national graduate programmes, you'll benefit from our unique training and development designed to progress your career and your impact in policing:
I've got no interest really in leaving the police now. It's definitely career that I want to stay with for the rest of my working life. The opportunities that get presented within the police are so vast you probably don't even know all the opportunities that exist.

I've been really fulfilled and rewarded by being given the opportunity to not just join the police, but going through the Police Now route that I have gone through, just because you get exposed to so many different parts of the organisation really early on, and that allows you to understand the roles, and that gives you an awareness of all the necessary skills, and that allows you to become a good detective from day one.
Staffordshire Police graduate scheme
We are looking for graduates to join Staffordshire Police through our national graduate programmes.
National Graduate Leadership Programme
As a neighbourhood police officer you will work within diverse communities, devise long term strategic solutions and work collaboratively in a multi agency approach to solve crimes and systemic problems.
National Detective Programme
As a detective you care, it's a serious career choice. You act on instinct and grow your capacity to change communities by delivering excellence in policing.
Staffordshire Police recruitment
Our focus on diversity and inclusion
Staffordshire Police are committed to ensure equality, diversity and inclusion runs throughout their everyday policing as well as through the organisation in terms of supporting the needs of colleagues. Staffordshire Police encourages people to bring their whole selves to work, valuing different approaches, perspectives and ways of working, so that they can achieve their full potential and deliver their best.
Tary Kufa | Detective Constable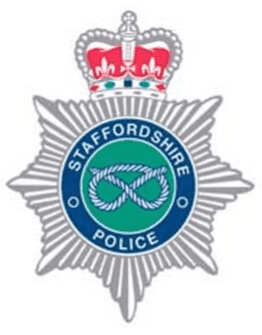 We know that by creating an inclusive culture, which values difference, this will deliver better service and outcomes for the diverse communities we serve.
Are you eligible to apply?
Before you submit an application, we would encourage you to check if you would be eligible.
Our entry criteria follow national standards for new police officers. Take a look at the full details to make sure you are eligible before applying to Staffordshire Police. 
You want a career where you can make an impact. Are you prepared to start the application process?
Before you apply, make sure to thoroughly read this information and have everything you need to start your journey.
Find out how to apply for Staffordshire Police and the stages you'll go through to join Police Now.