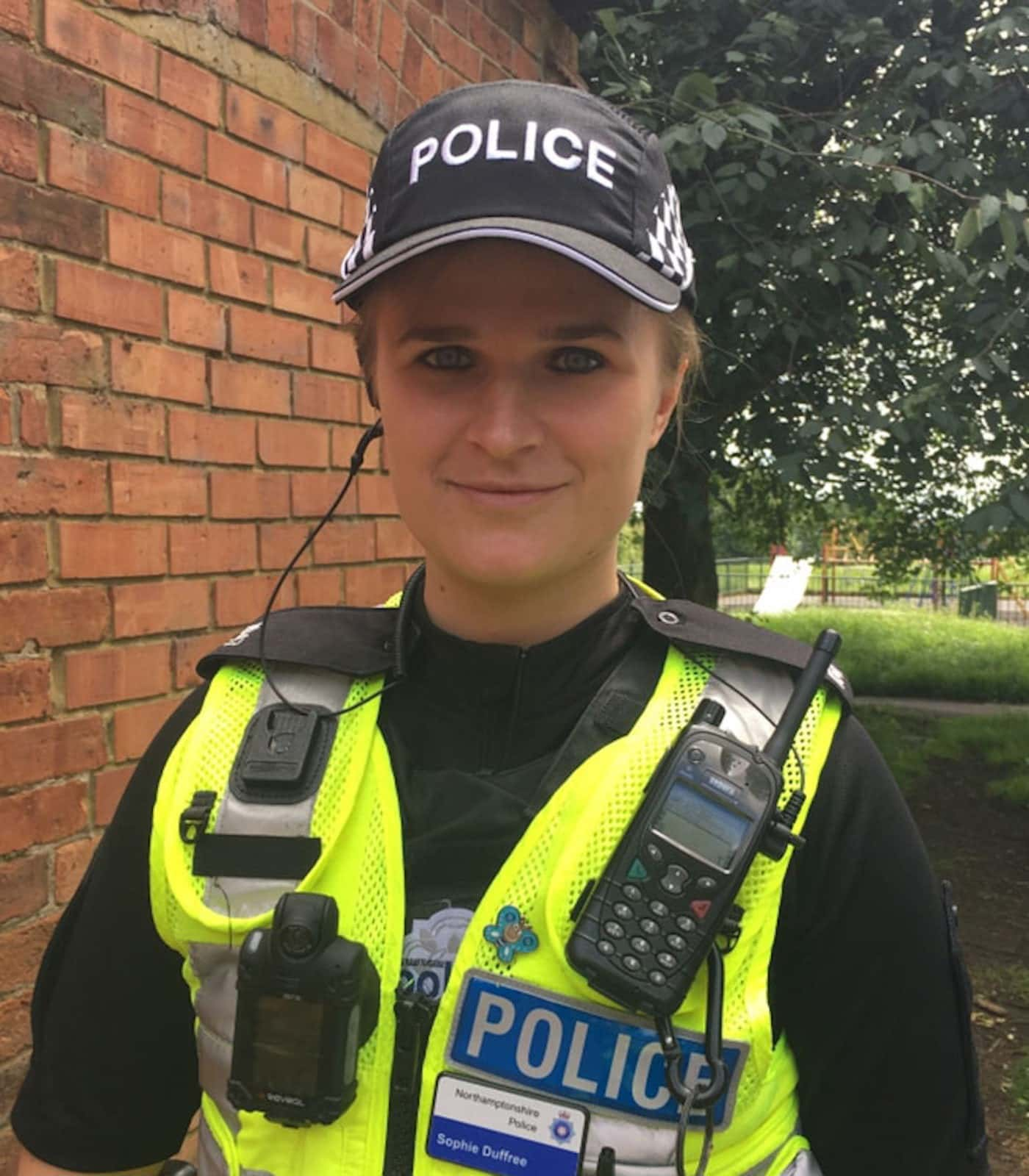 NAME:
Sophie Duffree
NEIGHBOURHOOD:
Blackthorn – Northampton
FORCE:
Northamptonshire Police
GRADUATE OF:
University of Sheffield
Why did you want to join Police Now?
I've always wanted to join the police. The programme meant I could do this but also make a difference to a community and have a lasting impact too.
What's it like when you first put on your uniform?
It's a very strange feeling because you're aware of how much responsibility you have. The public is going to expect you to have experience in situations that you haven't yet come across. It was quite daunting and that feeling lasted for the first few months.
Describe your first day.
I made an arrest on my first shift for theft. I spoke with the suspect on the way to custody and he actually thanked me and said he was glad the arrest has happened because he couldn't carry on that way. I wasn't expecting that reaction and it hasn't happened since!
Tell us about the programme.
It's a graduate scheme (but not a fast-track one) that starts off with an intense six weeks of training. Then you work as a Neighbourhood Officer in a community for the remainder of the two years, problem-solving and making a difference to the area.
What's the biggest positive impact you've made in your neighbourhood so far?
Setting up the multi-agency project, obtaining funding and starting to get events such as self-defence classes attended by residents. It's a long-term project, so we'll be monitoring the outcome in terms of the effect both on crime and confidence over a period of time.
What's it like working with all the different people within your community?
It's been great meeting the residents in the area where I'm working. I try and ensure that the work I'm doing reaches out across different demographics so that it's as inclusive as possible.
Were you nervous when you first started? How do you feel now?
I didn't have much confidence as a police officer when I started as everything was new and there was so much to take in. Plus, the public expected me to know a lot more than I did. Every shift has increased my confidence and every day gets a bit easier.
What's your favourite part of the job? Why?
For me, it will always be seeing the positive effect of the work I have done. My best moments are always when a resident thanks me for the work I'm doing or a victim of crime tells me I've made a difference. It can be a difficult job at times and there's no better measure of knowing you are making a difference than hearing it from the people that you are helping
Tell us a bit about the training.
The training was six weeks in London. It was incredibly intense, comprising 11 hour days, at least five days a week. We also had work to do at the end of each day and there was a fair bit of studying involved before we even started. The quality of the lessons was fantastic – they were interactive and engaging.
If someone was thinking about joining, what would you say to them?
If you want a job where you will be challenged every single day – but develop the resilience to keep going and achieve your aims despite countless setbacks, then go for it!