Alumni Spotlight: PC Alice Boucher, South Yorkshire Police
Tuesday 28th February 2023
Police Constable Alice Boucher joined South Yorkshire Police via Police Now's National Graduate Leadership Programme in 2020, after completing a degree in Psychology at the University of York. 
Whilst on Police Now's programme, Alice supported vulnerable victims of crime, significantly reduced anti-social behaviour on a local housing estate and set up a mobile police station to better engage with the community. She also undertook a secondment with the Counter Terrorism Policing North West Unit, where she led a project to maximise operational efficiency. 
Due to her passion for neighbourhood policing, Alice decided to stay in the role after completing Police Now's programme and currently works to protect the public and build strong community relations in Sheffield. Next year, she will be joining Police Now's Frontline Leadership Programme, a year-long course designed to develop officers' leadership and policing skills and prepare them for promotion from constable to sergeant rank.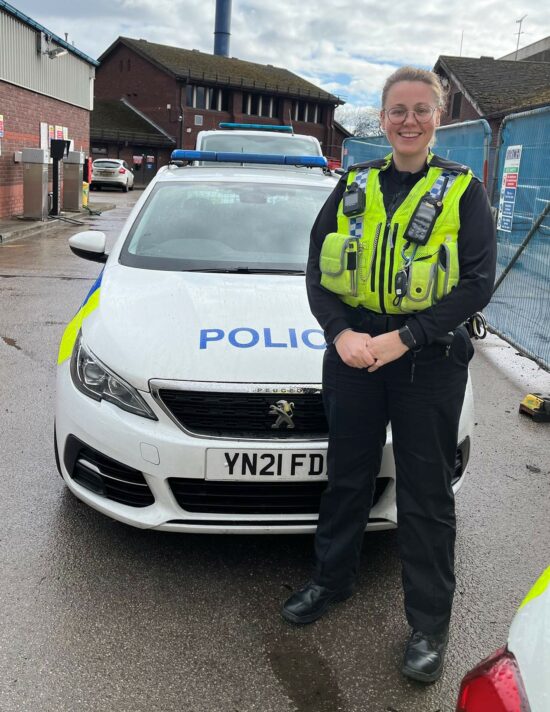 Police Constable Alice Boucher said:  
"I was on the other side of the globe when I first came across Police Now's National Graduate Leadership Programme. After studying Psychology at the University of York, I decided to spend two years travelling, volunteering and working across the world as I wanted to try something new and take time to consider what I wanted to do as a career. It was whilst calling my family from Australia that I first heard about the Police Now programme and it instantly resonated with me. What appealed to me most was the ethos of Police Now and its focus on transforming communities and developing diverse leaders for the future. I knew I didn't want a standard 9-5 job, but something that would make a tangible difference in society, so I immediately decided to apply.  
"Shortly after joining the programme, I started working on one of the most rewarding cases of my career in policing so far, involving a particularly vulnerable member of the community. They had become a victim of 'cuckooing' – which is where the home of a vulnerable person is taken over by someone in order to operate criminal activity from the property, often relating to county lines, drugs trafficking or illegal sex work. In this case, other drug users were using her address as a base for taking drugs. As a result, there had been increasing drug-related crime in the area and the property had become a frequent source of anti-social behaviour (ASB), resulting in regular noise complaints to Police Control, the housing department at the City Council and directly to myself as the investigating officer. 
"Aware that neighbours were growing increasingly frustrated, we decided to set up a 'pop-up police station' in the estate, providing an easily accessible space for residents to voice their concerns and share vital intelligence. It was quite a simple setup – a gazebo and table where we could stand and chat – but it proved very effective and in just one afternoon we heard from over 30 households.  
"Thanks to these conversations, we were able to evidence the full extent of the problem and issue a closure order on the property, barring anyone from entering except the legal resident and a select group of trusted individuals. As my colleagues on the Sheffield North East Neighbourhood Policing Team and I had hoped, the problem almost disappeared overnight. Calls from residents related to ASB fell by over 70% in the two months following police intervention compared to the three months prior, and we received written and verbal thanks for residents noting the difference we had made. The vulnerable resident expressed her gratitude to me, and the team and I have put safeguarding measures in place to protect her in future. Seeing the victim smile and thank us was one of the best moments of my policing career so far! 
"Another highlight of the programme was the Police Now secondment I undertook with the Counter Terrorism Policing North West Unit. On this highly competitive secondment placement, I shadowed Counter Terrorism officers as they visited local communities and sat in on strategic meetings with senior decision-makers. I also led a project to analyse the use of resources across five force areas, particularly the effectiveness of governance meetings.  
"It was an important and impactful project that ultimately allowed us to save public money and, as a team, free up more time and resource to focus on risk management; a key priority within Counter Terrorism policing. I was nominated by a colleague in Police Now's Alumni Impact Awards for the work, of which I'm very proud. 
"The experience enabled me to witness another side of policing I had never seen before and discover policing roles I never knew existed. Observing how decisions are made at the highest level was invaluable and I hope it will serve me well as I aspire to promotion and leadership roles in the future. 
"Since graduating from Police Now's National Graduate Leadership Programme in 2022, I have continued working as a neighbourhood police officer, serving my community in Sheffield. Working as a neighbourhood police officer is one of the most rewarding jobs out there. I never would have imagined the people I've met and the difference I've been able to make in just a few years. I really love the area and am surrounded by a fantastic team of colleagues who support me, so I hope to stay here for the foreseeable future, developing my neighbourhood policing skills and protecting the public.  
"Looking ahead, I hope to continue making the most of every opportunity that comes my way, helping those most in need in my community and developing into a more confident leader, ready for whatever new challenges come my way. I will be starting Police Now's Frontline Leadership Programme next year, a professional development course which will help me develop my leadership and operational policing skills further. The programme particularly focuses on creating inclusive cultures and leading in ways which build public confidence in the police service. These are all essential skills in neighbourhood policing, and policing more broadly, so I hope to bring these skills and knowledge back to the beat and work towards promotion to sergeant rank."