Frontline Leadership Programme officer named as runner-up for national award
Thursday 21st September 2023
Sergeant Vicky Hallett of West Mercia Police has been formally recognised as a runner up for the National Police Chief Council's (NPCC) Response Officer of the Year 2023.
Vicky is an officer on Police Now's Frontline Leadership Programme (FLP), a one-year development programme which supports talented and passionate officers to progress from constable to sergeant rank. With a focus on evidence-based policing and inclusive and innovative leadership, officers are supported to tackle long-standing problems in the communities they serve and build public confidence in policing.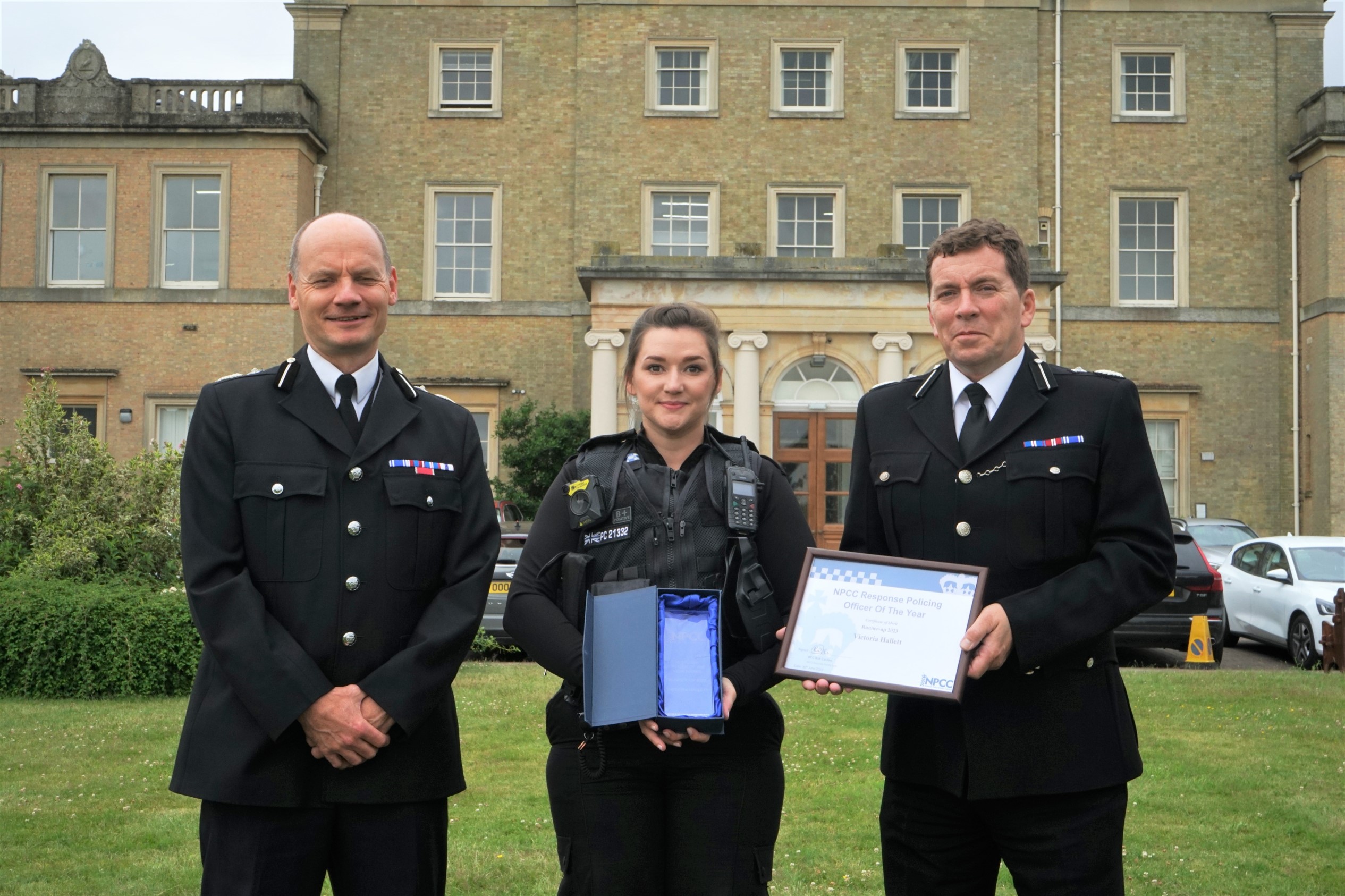 Sergeant Vicky Hallett, who has been based in Evesham and Worcester during her service, has been named one of two runners-up for the National Police Chief Council's (NPCC) Response Officer of the Year 2023.   
In her short four years' service Vicky has been faced with a number of serious incidents and has been on the front-line saving lives, having performed CPR on eight occasions and helping recover three casualties from the river Avon.  
She was chosen by representatives from HMICFRS, the College of Policing, the Police Federation, Oscar Kilo – The National Police Wellbeing Service and NPCC Response Policing and was up against the very best of response police officers from around the country. She was recognised for her dedication, bravery and commitment to the communities of Worcestershire. Having worked as a constable for four years at Evesham and developed as a leader on Police Now's Frontline Leadership Programme, she recently passed her sergeant's exam and now leads a team in Worcester.  
To mark her accomplishment, last week she was presented with a certificate by Acting Chief Constable for West Mercia Police, Alex Murray, and the national lead for Response Policing, Deputy Chief Constable Rob Carden.  
Speaking after receiving her certificate, Vicky said:
"I am very proud to have been selected for this award and it came as a complete surprise. While it's nice to be recognised in this way, I'm part of a fantastic team and we all work together to achieve the same goals. Everyone chips in and supports each other. 
"Our role is to respond to incidents, engage with the public and build public confidence in the police. It's a demanding job, both physically and mentally, and you have to deal with some traumatic events, but the good days make the bad days worthwhile. 
"I've always wanted to be a police officer. I like going into the unknown and challenging myself to be out of my comfort zone. Every day is different."
Assistant Chief Constable Rachel Jones commented:
"Given her relatively short length of service, the incidents Victoria has become involved in is extraordinary. Many officers can go their entire service without using the first aid they learn – to deliver CPR eight times in such a short space of time is remarkable. She is a credit to the force, her team, her family and herself." 
Issued by West Mercia Police, BB Corporate Commumications.