Neighbourhood Policing Week of Action
Wednesday 19 January 2022
This week is Neighbourhood Policing Week of Action, a week which celebrates community policing and the achievements of neighbourhood officers across the UK.
To mark the week, we want to share some of the positive impact that Police Now participants and alumni have been having in their communities as neighbourhood police officers on the National Graduate Leadership Programme.
The National Graduate Leadership Programme gives graduates and career-changers a structured route into policing, supporting participants over the two-year programme to make a positive impact in their communities.
Applications for the programme are now open.
Police Constable Sabrina Schwarz
Surrey Police
In her role as a neighbourhood police officer on the National Graduate Leadership Programme with Surrey Police, Police Constable Sabrina Schwarz and her colleagues rescued a vulnerable missing person in Epsom.
Upon receiving the missing persons report, PC Schwarz searched the local railway station following intelligence before attending the local park to continue the search. Here she met up with her colleague PC Beesley and police dog PD Reno, who had picked up a track where the individual was last seen 30 minutes prior.
Together they found the semi-unconscious individual and PC Schwarz immediately put him in the recovery position, monitored his condition and provided support whilst waiting for the ambulance to arrive.
PC Schwarz and her colleagues PC Beesley and PD Reno received a commendation for their work, at the Chief's Commendation Ceremony in November.
PC Schwarz said: "It was quite a challenging search; PD Reno moved very quickly through the mud and through the dark, and we had to get through a thick line of bushes to reach the individual.
"We stayed with him and did all we could to keep him comfortable and safe until the ambulance arrived, and myself and PC Humphreys – another Police Now officer on the National Graduate Leadership Programme – rode with him to the hospital to carry out welfare checks. 
"It was definitely a team effort and I'm so grateful to my colleagues who all helped with the search that night. Collectively we saved a life."
Detective Constable Rosanna Walker 
Essex Police
Detective Constable Rosanna Walker joined Essex Police via the National Graduate Leadership Programme in 2017, after some time working in the care sector as a healthcare assistant, support worker, and a dementia lead support coordinator.
Whilst on the programme she worked as a Neighbourhood Police Officer in Colchester.
She said: "A project that stands out is the work I did to tackle bicycle thefts during my first year on the programme, due to a significant increase in these incidents across Colchester Town in the summer of 2017. I implemented targeted patrols in theft hotspots and worked with local shops, the local councillor and the Cycle Network to raise awareness of the issues and encourage the public to purchase more secure bike locks and record serial numbers. We also identified a second-hand shop which was selling stolen bicycles and ensured that officers intervened. Bicycle theft in the area dropped by 50% by November 2017 compared to 2016.  A total of eight people were charged with theft or handling stolen bicycles, with a further five receiving a community resolution."
Since graduating the programme, Rosanna worked as a Temporary Sergeant in the force's Domestic Abuse team before training to become a Detective Constable in the Criminal Investigations Department.
Please click here for more information.
Police Constable Deach
Greater Manchester Police
Police Constable Deach and his Police Now colleagues took part in Greater Manchester Police's 'Operation Lance', upon completing their initial training to become neighbourhood officers in October last year. The operation was focused on high visibility public engagement, enabling the progression of longer-term problem solving to reduce crime and risks to the public.
The Police Now cohort and several force colleagues divided across foot patrol teams throughout the city, including traffic patrols along Deansgate, community engagement across Piccadilly Gardens and Market Street and providing support to Project Servator in Exchange Square.
The operation saw 11 arrests being made in total, a missing person being located and supported, a weapon being seized, 3 prohibition notices being issued, 6 traffic offence reports and 2 care plans being submitted.
PC Deach, who was stationed in Piccadilly Gardens for the event, said on the day: "Today has been a really great opportunity to engage with the public and put our training into practice.
"I was able to make my first ever arrest, I cautioned a man known to the police after running a PNC check and confirming he had breached his bail conditions, before arresting him and taking him into custody with the help of a more experienced colleague – who happened to be a Police Now alumni. It was very encouraging to be with her on the day and see just how much she had learnt during her time on the programme. I'm really excited for my future policing career and can't wait to help and support the public."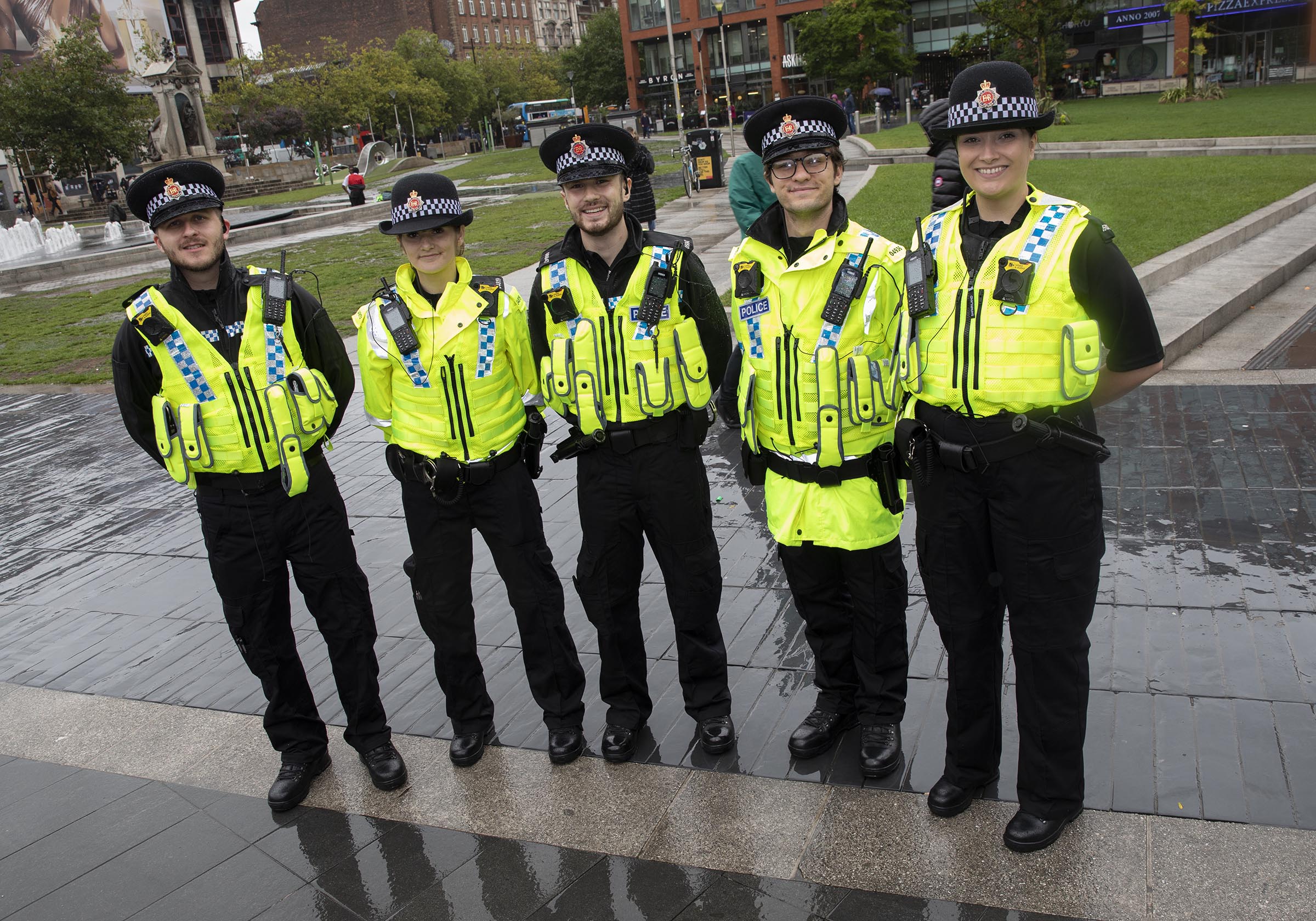 Police Constables Rory Farmer and Hollie Edwards
Hertfordshire Constabulary 
Police Constables Rory Farmer and Hollie Edwards of Hertfordshire Constabulary both worked on an innovative scheme last year to reduce thefts from cars.
PC Farmer noticed that theft from vehicles had risen rapidly over the beginning of 2021 and that the problem was often a result of car doors being left unlocked by their owners. With the support of his sergeant and colleagues, he ran an operation over two nights in which they tried over 1,500 car door handles. This identified 36 vehicles with unlocked doors, one of which had thousands of pounds-worth of tools inside.
PC Farmer and his colleagues alerted the vehicle owners to raise awareness and prevent offences. They then published the results locally to raise awareness more widely and spoke with colleagues across Watford to let them know of the operation's success.
PC Edwards recognised the effectiveness of the scheme and tried 2,220 car door handles over three evenings throughout her ward to see how many were unlocked. She found 103 had been left unlocked – one car in every 22. She then notified the car owners in person to encourage people to lock their vehicles and raise awareness of the issue.
She said: "Most were very pleased we'd let them know- and some a little embarrassed! Following our work, I noticed a significant reduction of thefts from inside vehicles on my beat."
PC Farmer added: "It's important that all members of the public are able to see people like themselves in the police so that they can feel that the police are accessible. That accessibility helps the dialogue that will be able to have a look at why things such as anti-social behaviour might be existing in an area."
Police Constable Steven Beer 
Bedfordshire Police
Police Constable Steven Beer worked with his colleagues at Bedfordshire Police and the Commercial Training team at the East of England Ambulance Service NHS Trust (TrainEEAST), to deliver first aid training to Luton Town's Community Trust's cohesion team, in a bid to tackle knife crime.
PC Beer, who joined Bedfordshire Police last year via the Police Now National Graduate Leadership Programme, hosted the day-long first aid training event in September, for staff on the Community Trust's Luton Street League project. The project operates weekly sports sessions for young people across the most deprived wards in Luton, aimed at improving community cohesion through sports leagues, employment training and skills workshops.
PC Beer came up with the idea and organised the event after realising that many of the individuals getting injured in knife crime and gang violence would seek help from their community sports leaders in the first instance, rather than the police or ambulance service. This was delaying the amount of time it took for emergency services to be alerted and provide necessary life-saving care.
Through providing first aid training to well-trusted community leaders in the area and building strong relationships with Luton Street League, an extra layer of care can be provided to young people injured in gang violence and open further opportunities to engage with those affected by knife crime.
PC Steven Beer said: "It has been a very rewarding experience creating this project, from its initial idea phase to seeing it through to completion. I am very grateful for Luton Street League for their participation and for TrainEEAST for completing the training for us. I look forward to working together with everyone again in the future, so we can continue our work to help those affected by gang violence and reduce knife crime in the community."