Police Now officer in Greater Manchester Police wins Student Officer of the Year
Wednesday 16 November 2022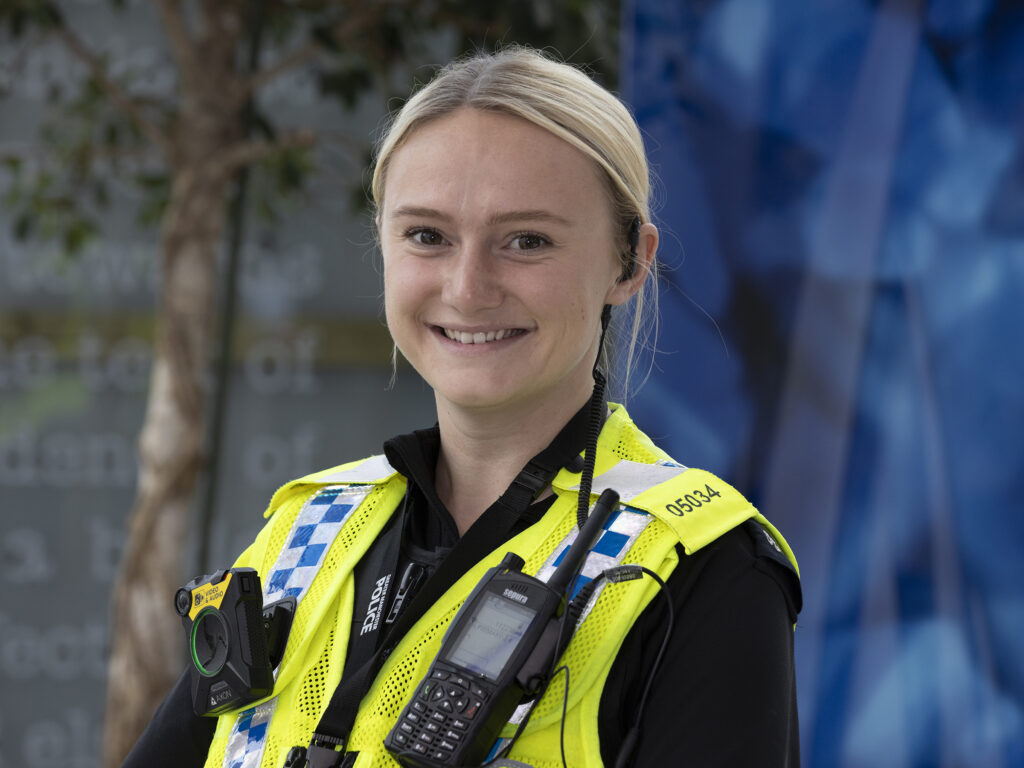 Police Constable Emily Wells was awarded 'Student Officer of the Year' for successfully building a strong working relationship with a local mental health unit, which had historically been placing a high demand on police resources.
Emily, who works on the Cheetham Neighbourhood Policing Team, demonstrated creative problem-solving and tireless hard work and dedication to community policing. She joined Greater Manchester Police (GMP) last year via Police Now's National Graduate Leadership Programme, a two-year programme that recruits, trains and develops outstanding graduates with a passion for public service and driving positive, long-lasting change in society.
Emily proactively worked in partnership with the local mental health unit to address the high volume of calls being made to the service. A number of patients at the hospital were making repeat calls about non-police related issues and several incidents of missing persons or assaults were reported from staff. However, the minimal details provided made investigations hard to progress, adding to the already significant demand on the neighbourhood policing team.
Emily worked with the repeat callers to offer her support, educate them on police procedures and sign-post them to the appropriate services. Thanks to this, calls from the hospital relating to non-policing issues significantly decreased. Emily also made links with the management team at the hospital and dedicated time to meet with staff on a regular basis, which has hugely increased their confidence in the police service. She designed a bespoke reporting process for the hospital, outlining the information that should be shared in initial reports, and the appropriate contacts to streamline the process and support staff. This has significantly reduced demand on the neighbourhood policing team and streamlined subsequent follow-up investigations.
PC Emily Wells, who studied at the University of Manchester before joining Police Now's graduate programme, said: "I feel so privileged to have been awarded Student Officer of the Year. It means a great deal to me and I greatly appreciate being recognised after a tough year. I feel honoured to have been given the opportunity to work in a mental health hospital where staff have struggled to access the right support, leaving them under strain. It is a pleasure to get to know the staff and support them in their duties. They work incredibly hard and they should be recognised as doing a fantastic job. Helping them is very rewarding and to be recognised as making a difference is a privilege."
Police Sergeant Christopher Minas said: "PC Emily Wells fully deserves the award, she is a hardworking officer who has been working tirelessly to build a better working relationship with the hospital. The feedback has been overwhelming for the difference she has made in a short period of time."
The award was presented at GMP's Chief Constable's Awards 2022, which was held in Manchester on Friday 4 November. The annual awards recognise and celebrate the achievements of some of GMP's finest officers and staff, and everyone recognised on the night displayed incredible dedication to duty and the public they serve.
The awards were presented by Chief Constable Steven Watson, who took the position in 2021 and has led the force from strength-to-strength. He said: "Everyone here is a winner, you are fantastic, I and my colleagues are so proud of you and GMP right now. Look after the public, look after each other, and look after yourselves."
Applications for Police Now's National Graduate Leadership Programme are currently open. To find out more about the impact that Police Now officers are making nationally, please see the latest Impact Report here.