Alumni Spotlight: Police Sergeant Kanar Talabani, West Midlands Police
Wednesday 30th November 2022
Police Sergeant Kanar Talabani joined West Midlands Police via Police Now's National Graduate Leadership Programme in 2018, after graduating with a degree in History from the School of Oriental and African Studies (SOAS) in London and a master's degree in Global Cooperation and Security from the University of Birmingham. 
Originally a Kurdish refugee from the North of Iraq, Kanar was motivated by her past experiences and her personal values to be a positive role model in society as an officer on the frontline.  
As a neighbourhood police officer on Police Now's programme, she engaged with school students across Birmingham to tackle knife violence and support at-risk children from falling into the cycle of crime.  
She has since gone on to work with the Serious Organised Crime and Exploitation Team to map and disrupt Urban Crime Groups and is now a Police Sergeant managing risks associated with domestic abuse and missing person cases. Having recently been accepted onto her force's Fast Track programme, she is now on her way to becoming an Inspector.  
If you want to use your story, your background, and your degree in a career where engagement really matters, apply to Police Now's National Graduate Leadership Programme now. Be a leader. Prevent crime. Save lives.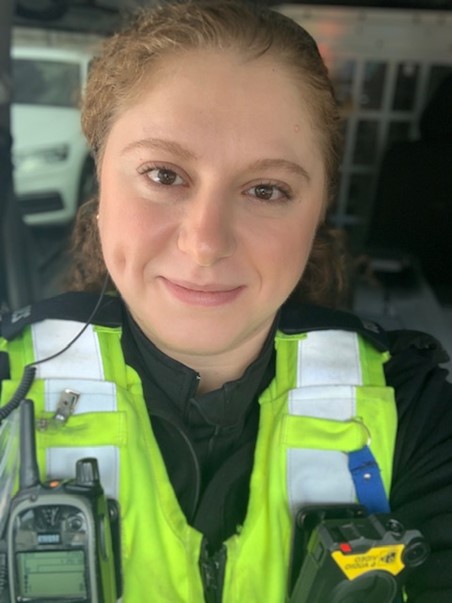 Police Sergeant Kanar Talabani
"I had never considered joining the police until I came across Police Now's National Graduate Leadership Programme in 2018, when I was working for the Post Office.  
"Police Now's academy training was very intense, but it prepared me for my role as a neighbourhood police officer in Birmingham West Handsworth Wood. I grew up and went to school in the area, so I know the place well. It's home to a very diverse community, both racially and religiously, where confidence in the police has sometimes been low. Some of my friends have certain negative opinions about the police but now they have seen me in the role and understand better what I do day to day, I have been able to change some of those perceptions and show them the good I can do.  
"I am originally a Kurdish refugee from the North of Iraq. I was four years old when I fled in the middle of the night with my family. We were some of the lucky few who found safety, though we lost friends and family members along the way. My background has always reminded me that the circumstances that shape our lives are often out of our control, and everyone faces difficult experiences and life choices. I approach everything with this in mind and make an effort to show kindness and bravery to everyone I interact with. I have worked with a lot of young people in the area since joining the force, and I hope many of them see me as a positive role model and support figure. 
"Whilst working as a neighbourhood police officer, I visited a number of schools and delivered creative workshops to educate students on the dangers and consequences of knife crime. I ran some sessions where students had the chance to role-play being a police officer and attend a fake knife-crime scene. The aim was for them to really understand the emotions behind those scenes and the impact it has on friends and families of victims, and to educate them on the legal and social consequences of committing those crimes.  
"Whilst on the programme, I also secured one of Police Now's competitive external secondments and spent four weeks working at Bath Spa University as a guest lecturer for the Criminology, Sociology, and Terrorism departments, which was an exciting experience.  
"I enjoyed these roles so much that, when I graduated from Police Now's two-year programme, I remained on my Neighbourhood Policing Team and took up a position as a School Link Officer. I worked in partnership with about 70 schools and education providers, to support vulnerable students and those who had been victims of crime. Together, we looked at long-term solutions to prevent children from falling into the cycle of crime. Seeing at-risk students get the intervention they needed and go on to thrive, and knowing I'd changed the course of someone's life for the better, is what really made neighbourhood policing so rewarding.  
"I then moved onto the Serious Organised Crime and Exploitation Team for six months and focused on preventing child exploitation. My role was to research two known Urban Crime Groups (UCGs) and aid the team in mapping and disrupting their activity. The UCGs both operated very differently, one focused mostly on cannabis and low-level knife offences, whereas the other was an extremely well-organised and structured group that exploited children for serious drugs, knife, and even firearms crimes. There were times where UCG tensions were high and those times were critical for police action, such as protecting those at risk of serious harm and conducting warrants with the Firearms team, Regional Organised Crime Units, and Gangs teams.  
"I have since been promoted to Police Sergeant and moved into a Force Contact Support Desk role. I now manage risks associated with domestic abuse and missing person reports, working with a talented team of colleagues to protect the public. What has struck me in this role is that you can't let the seemingly 'lower level' incidents get buried. When you dig into cases, you often find that victims of crime have suffered for years but have not spoken up or reported their experiences. Sometimes you need to look for the people who stay quiet but should be shouting the loudest for help. Building rapport with victims and improving their confidence in the police service is essential.    
"I have recently secured a place on the Fast Track programme, a development and promotion support programme which will help me advance to the role of Inspector over the next few years. I begin the course in January, and I know it's going to be tough, but I can't wait.  
"It has been a varied, tiring, and challenging four years since I joined the police service, but I am so glad I put that application in. It's an incredible career. For those that worry that their origins may hold you back, just remember that you dictate your own future. The experiences you have, your background, your morals, your aspirations, and your attitude, make you who you are and, through hard work, you can achieve your goals and make an impact."