Over 60 new neighbourhood police officers join the Metropolitan Police Service
Tuesday 12th September 2023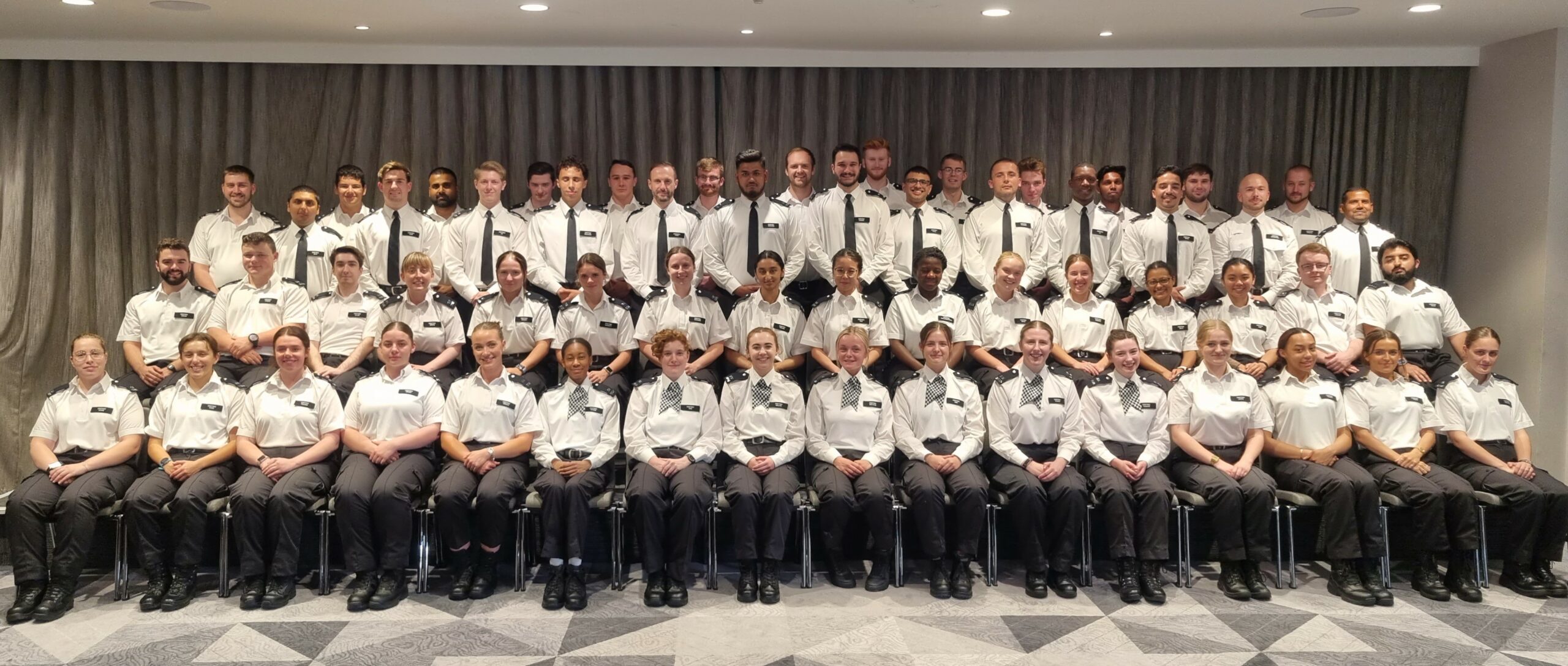 Sixty-one new police constables land in the Metropolitan Police Service today (Tuesday 12th September), where they will begin working to transform communities, reduce crime and anti-social behaviour, and build public confidence in the police service as neighbourhood police officers.  
The new officers have completed seven weeks of training at Police Now's National Graduate Leadership Programme academy, developing the essential policing knowledge and skills to serve their communities.
They now officially land in force where they will continue Police Now's two-year programme, working to support victims and tackle crime across London. They will also work towards their Graduate Diploma in Professional Policing Practice, in partnership with Liverpool John Moores University. 
Addressing the officers on the final day of Police Now's academy (Friday 8th September), Chief Constable Jason Hogg of Thames Valley Police said: "Policing is a fulfilling, challenging, interesting and diverse career. As a neighbourhood police officer, you will deal with a wide variety of issues at all levels of society and support vulnerable people within your communities who need you the most. You will uphold the law with honesty, integrity and compassion at all times and you will work extremely hard to support the public you serve.
"You are joining policing at a particularly challenging time, when public trust and confidence is lower than it has been for many years. Remember that every interaction you have with the public, however small, is a chance to change that. You are highly successful individuals who want to make a difference by serving others. Policing needs people just like you, who act and think differently and are prepared to challenge the status quo.
"Congratulations on everything you have achieved so far, as you come to the end of your academy training and prepare to arrive in your forces across the country. Continue to work hard and thank you in advance for everything you will do to fight crime and keep our communities safe."
Police Constable Alex Webb, who has just completed the academy and lands in the Metropolitan Police Service today via the programme, said: "My time at Police Now's academy was transformative. It equipped me with more than just essential policing skills, going further and fostering my confidence to make a meaningful impact in my local community. The dedicated staff played a pivotal role, their guidance and support has been invaluable. The camaraderie among trainees created a supportive environment that strengthened my resolve to serve and protect. As I look back on this positive experience, I'm not only armed with the knowledge needed for the job but also the determination to be a force for good, ensuring the safety and wellbeing of my community."
Police Constable Maya Morgan, who has also completed the academy and lands in the Metropolitan Police Service today, said: "I never saw myself in the police, I have a degree in Criminology, but it was not a job role I ever pictured myself pursuing. Especially with the negative narrative it has been receiving of late. However, one day I thought to myself 'how will this ever change if people don't create change'?, and this is when I came across Police Now. I am particularly passionate about making a change for women and girls.
"For me Police Now's academy was a brilliant opportunity to socialise, meet like-minded people and share ideas with people of different personalities. I have found academy challenging at times but the progress I have made in the past seven weeks is something I never thought possible, from Officer Safety Training to conducting our own suspect interviews. No doubt this has been through the amazing aid and support of our academy trainers.
"The thing that I am most looking forward to after academy is the opportunity to engage with the community and start making a difference. This is not to say that I am not nervous, but it does not override the excitement I feel to meet individuals like myself, who are contributing to the new generation of policing."
Police Now's programme recruits, trains and develops outstanding and diverse graduates with a commitment to exceptional community policing and public service. These new officers are among 113 graduates trained at this year's National Graduate Leadership Programme academy and among over 2,750 officers recruited nationally by Police Now across England and Wales.
Police Now is committed to building a diverse police service that is representative of the communities it serves and consistently recruits more female officers and more officers from Black, Asian and minority ethnic backgrounds than the national average. Of those on this cohort of the National Graduate Leadership Programme, 51% identify as female, 24% are from a Black, Asian or minority ethnic background, 19% identify as LGBT+ and there are 22 languages spoken across the cohort.
Applications for the next intake on Police Now's National Graduate Leadership Programme are currently open.